"Transforming Animal Farming" - the main theme of EuroTier 2022 sums it up: Production and value chains are on the move. In Spotlights, we highlight current topics in international livestock farming in special areas.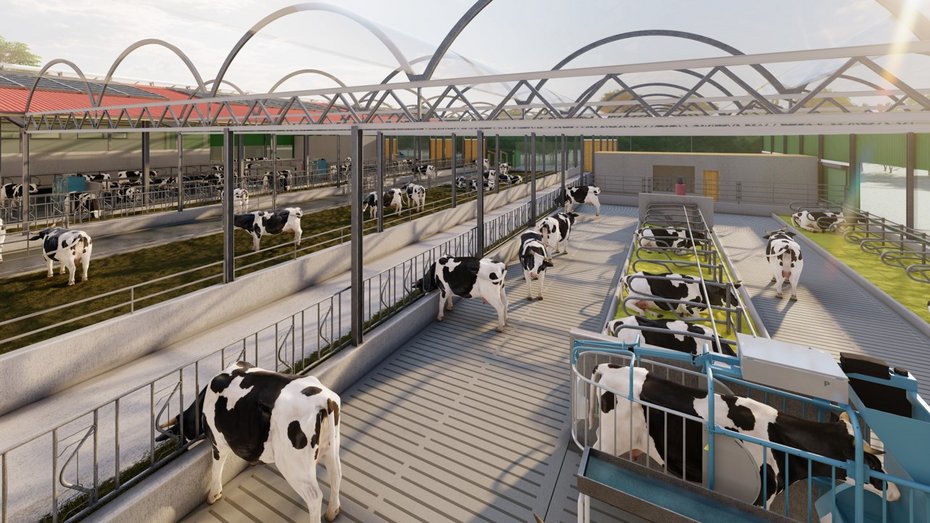 DLG Spotlight: Whole-farm livestock management concepts (Hall 26)
Sustainable livestock farming concepts must be animal-friendly, environmentally sound, climate-friendly and consumer-oriented, while still being competitive. Experts have taken on this complex task and present whole-farm livestock management concepts for fattening pigs, sows and piglets, dairy cows and pullets.
Partners: Bundesanstalt für Landwirtschaft und Ernährung (BLE - German Federal Agency for Agriculture and Food), Bundesinformationszentrum Landwirtschaft (BZL - German Federal Information Centre for Agriculture), Kuratorium für Technik und Bauwesen in der Landwirtschaft e.V. (KTBL - Board of Trustees for Technology and Construction in Agriculture), Verband der Landwirtschaftskammern (VLK - German Federation of Chambers of Agriculture) and the AG der Landesanstalten und Landesämter für Landwirtschaft (Working Group of the State Institutes and State Offices for Agriculture)
DLG Spotlight: Feed for Future (Hall 21)
New and proven feed and feeding methods increase animal welfare or reduce nutrient surpluses, thereby enabling nutritional and environmentally friendly use. In the Feed for Future Spotlight, the origin and composition as well as the possible applications of known and innovative feed, processes and recipes are presented and evaluated. This includes novel protein sources from algae and insects as alternatives for protein supply.
DLG Spotlight Direct farm sales (Hall 26)
On-farm processing and direct sales are becoming attractive for more and more agricultural enterprises. For the first time at EuroTier 2022, technical solutions, products and services as well as current marketing strategies will be summarised in a DLG Spotlight based on best-practice examples.
DLG Spotlight: Aquaculture Lounge (Hall 21)
What potential does growth in water offer? What innovations are there for feed & food and energy from bodies of water? The "Aquaculture Lounge" invites you to get to know the demands, possibilities and links that the production of fish, mussels, crayfish and aquatic plants has to offer. The DLG and the Blue Bioeconomy Innovation Space of the CAU Kiel are creating space for an international meeting place for those interested in aquaculture.
Network Focus on Animal Welfare (Hall 26)
The nationwide collaborative project "Network Focus on Animal Welfare", funded by the German Federal Ministry of Food and Agriculture (BMEL), provides answers to current animal welfare questions. In the poultry sector, this includes the keeping of uncropped animals and the improvement of the environment in which they are kept. In the cattle area, the animal welfare experts will provide information on topics such as cow-bonded calf rearing, feeding and walking surfaces. Alternative farrowing systems, barn construction concepts for sow management and rearing piglets as well as experience with isoflurane are information offers for pig farmers.