International technical programme
EuroTier is a platform for the future issues of livestock management. Benefit from the know-how of international industry experts and discuss current topics, trends and strategies with experts. From 12 to 15 November 2024, we will present a top-class international technical programme live from the world's leading trade fair for professional animal farming and livestock in Hanover.
TopTierTreff
Barn Robot-Event & "Cattle" Forum
"Pig" Spotlight & Forum
"Poultry" Spotlight & Forum
International marketplace for top genetics
Cattle - Sheep - Goats
Live breeding animals. Programmes. Expert Talks.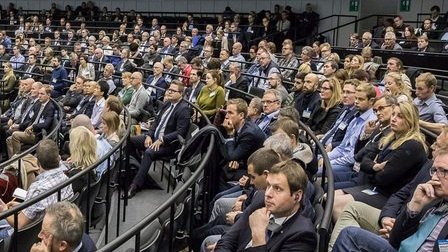 Conferences and Conventions
International Poultry Conference
Annual Congress of the German Federal Association of Practising Veterinarians
The future of professional livestock farming is ready for a new form of business development to solve the challenges of digitalisation quickly and effectively: Welcome to the DLG-Prototype.Club.
The Young Farmers Day on 17 November is a meeting place for young farmers and agricultural students from Germany and abroad. The highlight is the Young Farmers Party.
Information and counselling programme on all aspects of professional careers. Technical colleges, universities and research institutes present current research projects.
EuroTier honours trend-setting innovations and concepts.
EuroTier Innovation Award
Animal Welfare Award
DLG Agrifuture Concept Winner