EuroTier – First in animal farming! The world's leading trade fair for professional animal farming has been setting standards for over 30 years. Cattle, pigs, poultry, sheep, goat or aquaculture: leading companies present their products and innovations on the platform for the global animal production industry.
Become part of EuroTier 2022! Present your innovations, set technical impulses and expand your branch network!
We look forward to seeing you!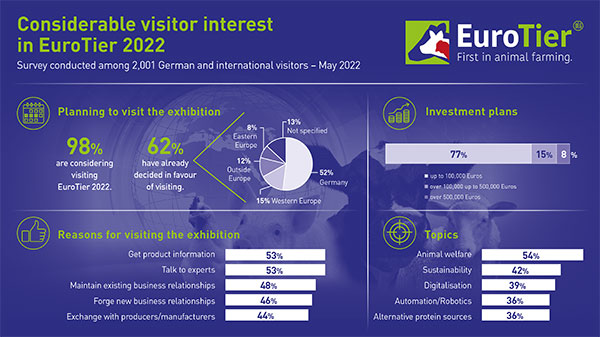 The visitor interest in EuroTier/EnergyDecentral 2022 is very high. Around 98 percent of the visitors surveyed are considering a visit to the leading international trade fairs in Hannover. 62 percent are already certain that they will visit the trade fairs in Hannover in November.
PLAN YOUR TRADE FAIR APPEARANCE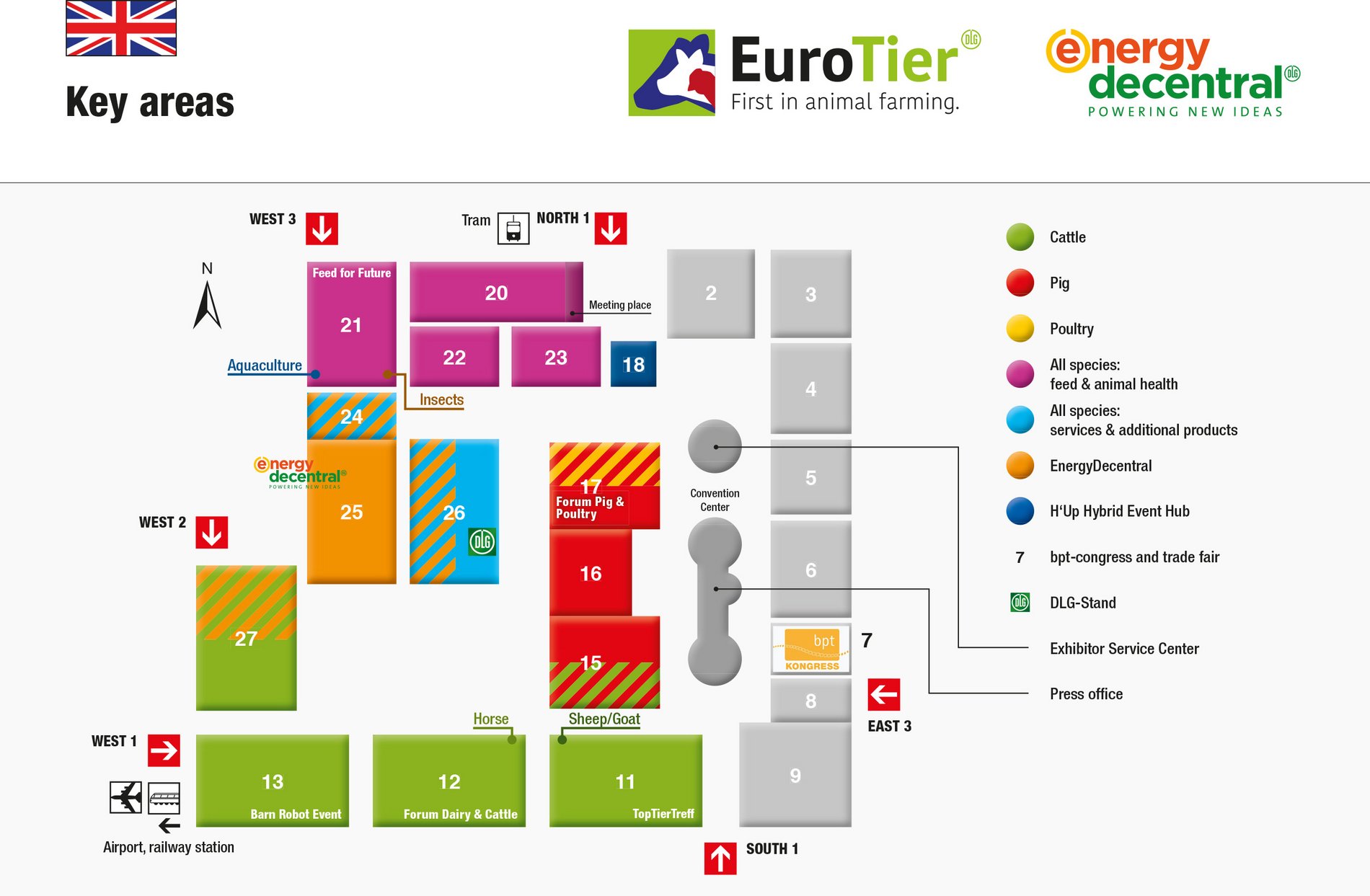 Breeding animals, breeding programmes, trade, reproduction technology

Feed and other farm inputs

Feed storage, feedstuff production

Animal housing and shed construction

Husbandry and feeding techniques

Controlled environment and environment technology

Milking and cooling technology

Technology for dung, solid manure and slurry

Transport vehicles, transport services

Processing and marketing

Equipment and accessories

Management and consulting services

Training/ further education, Associations, media
10 REASONS TO PARTICIPATE
1. THE WORLD'S LEADING TRADE FAIR FOR ANIMAL FARMING
All market leaders in one place
2. THE FULL CYCLE OF ANIMAL-BASED FOOD PRODUCTION
From feed to keeping to processing
3. COMPLETE MARKET OVERVIEW
2,600 exhibitors across 18 halls on 280,000 m², 60% of them international exhibitors
4. SIZE WITH QUALITY
160,000 visitors, 35% of which visit from 142 countries
5. FIRST CLASS CUSTOMER POTENTIAL
54% of the visitors work in agriculture and forestry
6. OVER 300 EVENTS
Experts, know-how, trends, ideas - solutions from the industry - live on site and digitally on the web
7. SHOWCASE OF INNOVATIONS
Industry leaders present their global innovations
8. COMPREHENSIVE KEY AREA CONCEPT
Targeted orientation on site and the basis for successful exhibitor presentations
9. PERFECT COMBINATION
EnergyDecentral - the world's leading trade fair for decentralized energy supply - parallel to EuroTier
10. INTERNATIONAL MEDIA COVERAGE
Worldwide reporting by journalists from 50 countries