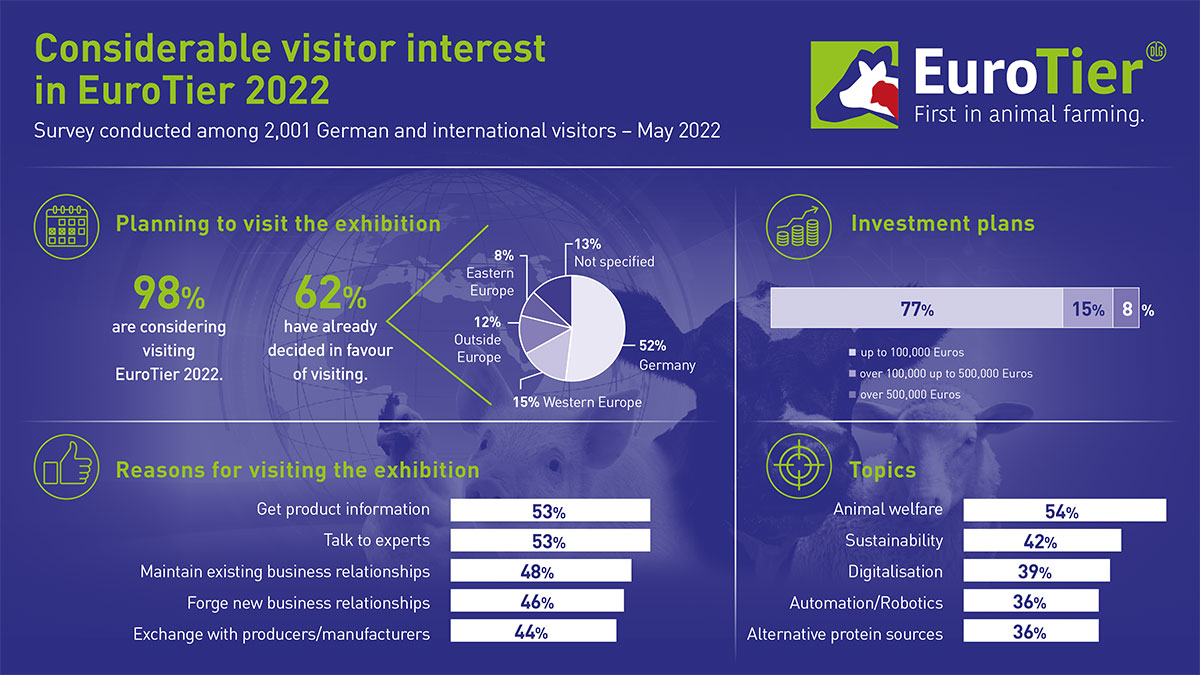 Great visitor interest in EuroTier / EnergyDecentral 2022
With five months to go before the trade fairs kick off, visitor interest in EuroTier/EnergyDecentral 2022 is currently very high. Some 98 percent of visitors surveyed are considering attending the leading international trade fairs in Hanover, Germany. While 62 percent are already certain that they will be visiting the trade fairs in Hanover in November, some 36 percent plan to make a decision over the next few months, according to the latest survey by the EuroTier and EnergyDecentral Visitor Tracker, a tool monitoring the visitor intentions and interests in the international agricultural sector. Around 2,000 potential visitors to EuroTier/EnergyDecentral from Germany, Europe and other international agricultural regions took part in the first online survey.
"Animal welfare, sustainability, digitalisation as well as automation and robotics are the topics that occupy the international livestock industry. The high level of visitor interest evident in the survey underlines the importance of EuroTier as the leading platform for strategies and innovations in the industry," explains Ines Rathke, EuroTier project manager, expressing satisfaction with the results of the first round of the EuroTier/EnergyDecentral tracker survey.
"The high level of interest in the products and services from our exhibitors - starting with animals and breeding programs, animal housing and barn constructions, milking and environmental technology to husbandry and feeding technology - also shows the importance of EuroTier as a leading trade fair for investments," she concludes.
EnergyDecentral: Great interest in wind and solar energy, biogas and biomethane
The current debates about security of supply and sustainable energy concepts are also reflected in the tracker results. "In addition to the topics of wind and solar energy as well as biogas and biomethane, the areas of energy technology, energy distribution and storage continue to move into focus. The need for information on the part of our trade visitors is high and is becoming increasingly differentiated," says Marcus Vagt, project manager of the EnergyDecentral trade fair that takes place parallel to EuroTier.